Riverwatch Visitor Centre & Aquarium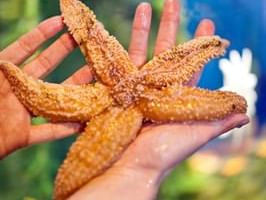 The Riverwatch Visitor Centre & Aquarium is a great tourist attraction located just outside Derry City Centre and with Free Admission it's a must do for families and visitors. Watch the fish swim about the tanks and learn about our local wildlife. We have lobster, crabs, starfish, coalfish, blenny's and lots of other marine and freshwater fish and shellfish. We are continually changing our livestock so it's always worth another trip! There are free activity packs to keep the kids entertained and all indoors, it's a great wet weather option too!
Fishing permits and licenses are also available.
Opening Hours: Mon-Fri 10.00am-4.00pm.
Evenings and weekends upon request.
Prices: Admission Free
22 Victoria Road BT47 2AB Northern Ireland United Kingdom
Monday10:00 - 16:00
Tuesday10:00 - 16:00
Wednesday10:00 - 16:00
Thursday10:00 - 16:00
Friday10:00 - 16:00